Located in southeastern British Columbia, near the Alberta border, Kootenay National Park is one of seven contiguous parks that make up the Canadian Rocky Mountains UNESCO World Heritage Site (together with Jasper, Yoho, and Banff National Parks and Mount Robson, Hamber and Mount Assiniboine Provincial Parks).
Established in 1920, Kootenay is a 1,406 km2 (543 sq mi) land of scenic landscapes, icefields and glaciers, lakes, and waterfalls. The Western and Main Ranges of the Rocky Mountains, the Kootenay River, and the entirety of the Vermilion River compose its stunning scenery that also includes other geologic treasures: the famous Radium Hot Springs, deep canyons, faults, karst cave systems, and ancient fossils.
Fantastic adventures await you at the Kootenay National Park, with hiking (the park has more than 200 kilometers of hiking trails), backpacking, picnicking, camping, climbing, paragliding, mountain biking, river rafting, canoeing, swimming, fishing, or cross-country skiing, snowshoeing, ice climbing, hot springs swimming and soaking for winter lovers. You can also enjoy wildlife viewing. 242 species of mammals are found in the park, include mountain goat, bighorn sheep, moose, elk, white-tailed deer, mule deer, black and grizzly bears, coyotes, martens bobcats, cougars, and over 190 species of birds.
Attractions:
Radium Hot Springs: After a day of cold adventures, you can take a dip and relax in the hot mineral waters of the hot springs pool – the most popular attraction in the park -, with a picturesque view of the surrounding mountains. Ranging from 37 to 40 °C (98 to 104 °F), it's a perfect remedy for soothing travelers' aching muscles. There are also a few nice walking trails in the area.

Sinclair Canyon and the Redwall Fault: The most impressive gateways to the park. Such a stunning view when you walk (there is a sidewalk for pedestrians) or drive through the canyon towards Radium Hot Springs. The immense red cliffs of the Redwall Fault in Sinclair Canyon are also quite inspiring. You'll be able to enjoy seeing wildlife and lovely hiking trails in the area that open up to lush alpine meadows and take you through the forest to the Sinclair Falls and Creek.

Olive Lake: A picturesque small green coloured lake located near Radium Hot Springs on Highway 93. Perfect for a leg stretch break or a picnic, also there is a short trail that loops around the lake. Just lovely!
Kootenay Valley Viewpoint: A beautiful lookout point that offers a panoramic view of the whole valley, the Mitchell and Vermilion Ranges, and the Kootenay River. Spectacular spot of nature!
Stanley Glacier: For those who are looking for a good hike, Stanley Glacier is a popular half-day trail (moderate) – with incredible mountain and glacier views -, that passes by a turquoise river, waterfalls, cliffs. What's more, you will find 500 million-year-old fossils in the Burgess Shale at the foot of Mount Stanley.
The Paint Pots: This short easy hike leads you to these geological treasures of minerals that produce the water and mud's reddish-orange colour. It was used as ceremonial body paint (and for trade purposes) by aboriginals. Interesting contrast with the deep greens of the surrounding vegetation.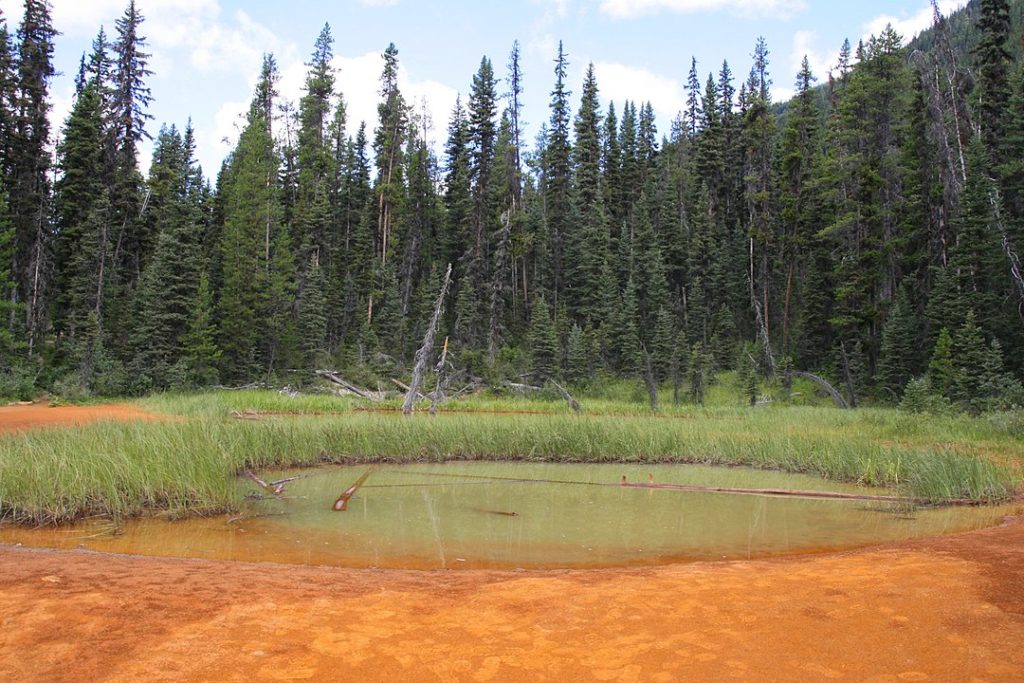 Marble Canyon: It's a short and scenic trail, with the scenery of the snow-capped mountains, that follows the canyon to the Tokumm Creek. The power of its blue waters (which has carved its way through the stone mountain to create Marble Canyon), the surrounding re-growing forest that had been devastated by fire are truly beautiful. At the far end of the canyon, visitors are rewarded with a magnificent waterfall that flows heavily. It's stunning!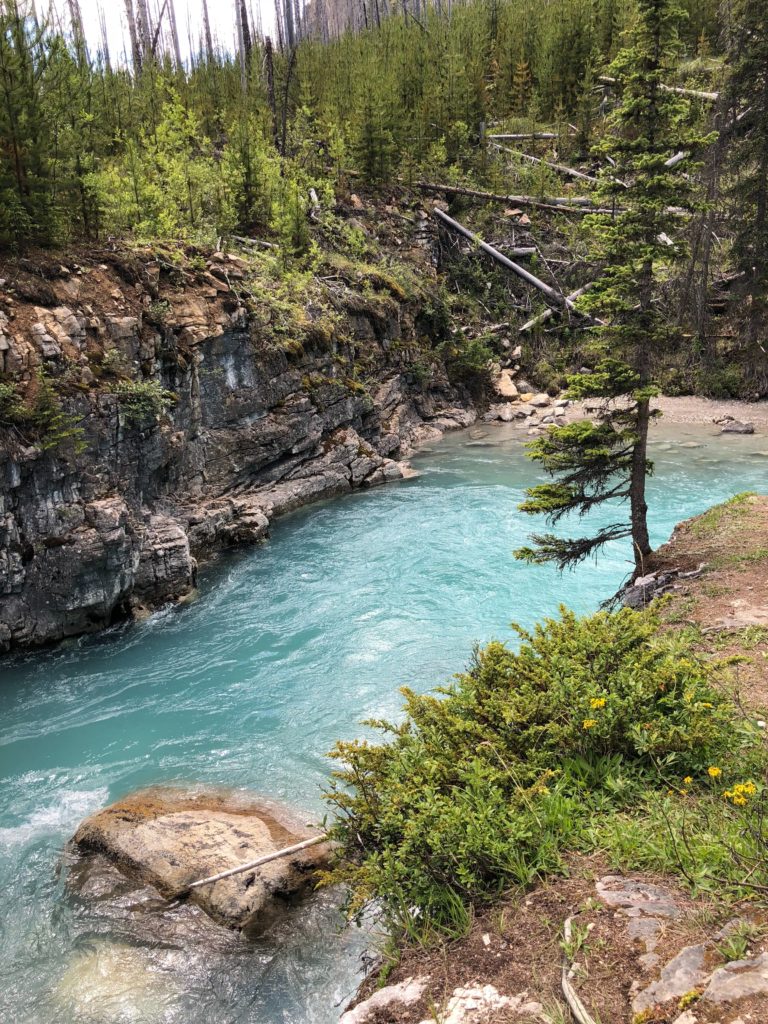 The Rockwall: It's a challenging multi-day hike (it spans about 55.6 kilometers) and a beautiful backcountry destination in the Canadian Rockies.
There are six backcountry campgrounds in Kootenay, five of them are located along the Rockwall trail (the sixth can be found on the Verdant Creek Trail connecting to Banff).
In addition to the famous Rockwall itself, the trail also offers spectacular views of creeks, glaciers, alpine lakes, the wildflower meadows and will take you to the Helmet Falls – one of the highest waterfalls in the Canadian Rockies at 1,154 feet. That's why you should reserve your campsite in advance.
Campgrounds: Available on a first-come, first-served basis or upon reservation during peak season. All of them are close to the hot pools at Radium Hot Springs.
Redstreak Campground (232 sites) including Redstreak oTENTiks (10 sites)
Marble Canyon (61 sites)
McLeod Meadows (80 sites)
Crook's Meadow (Group camping. Minimum 20 people, maximum 60 people. Advanced reservations are required).