Mount Revelstoke is located in the northeast of the city of Revelstoke, on the Trans-Canada Highway between Glacier and Yoho National Parks, and was established in 1914. Covering only 260 km2 (100 sq mi), it's relatively small for a national park, but don't let that fool you… Mount Revelstoke makes up for in diversity. From rainforests, subalpine forest, and meadows to rocky ridges and glaciers, hikers, cross-country skiers, and picnickers are spoiled with plenty of opportunities to experience nature at its finest.
Highlights of Mount Revelstoke National Park
#1 Giant Cedars and Skunk Cabbage Boardwalk: A short but high-reward hiking trail along the Giant Cedars that offers beautiful scenery and lush, unique vegetation, leads you through a stand of 500 to 800-year-old red cedar trees. There is also a nice covered sitting area to enjoy the views and tables for a picnic.
#2 Meadows in the Sky Parkway: It's a 26 km paved road that takes you through forests of cedar and hemlock, subalpine wildflower meadows (the brilliant wildflowers in full bloom are breathtaking), to the 2,000 meters summit of Mount Revelstoke. There are stops along the way for lookout points that offer fantastic overviews of the Columbia River, the town of Revelstoke and the Monashee, Selkirk, Purcell mountain ranges. Also, a great opportunity to spot wildlife. Black bears can be seen in spring at the base of Mount Revelstoke or along the Meadows in the Sky Parkway.
#3 Summit Area: Once you're at the summit area, there are several lookouts and hiking trails to experience some of BC's beautiful outdoors (from easy to more challenging day hikes). You can also find some artwork and sculptures of the First Nations people of Revelstoke, learn about their history on the First Footsteps Trail, and travel back over 200 years in time to take a path explored by David Thompson on the Koo Koo Sint Trail.
#4 Mount Revelstoke Trail: It's a moderate hiking trail through the woods up to the summit of Mountain Revelstoke that offers spectacular views of the valley. The trail also connects the ski jump to the railway museum.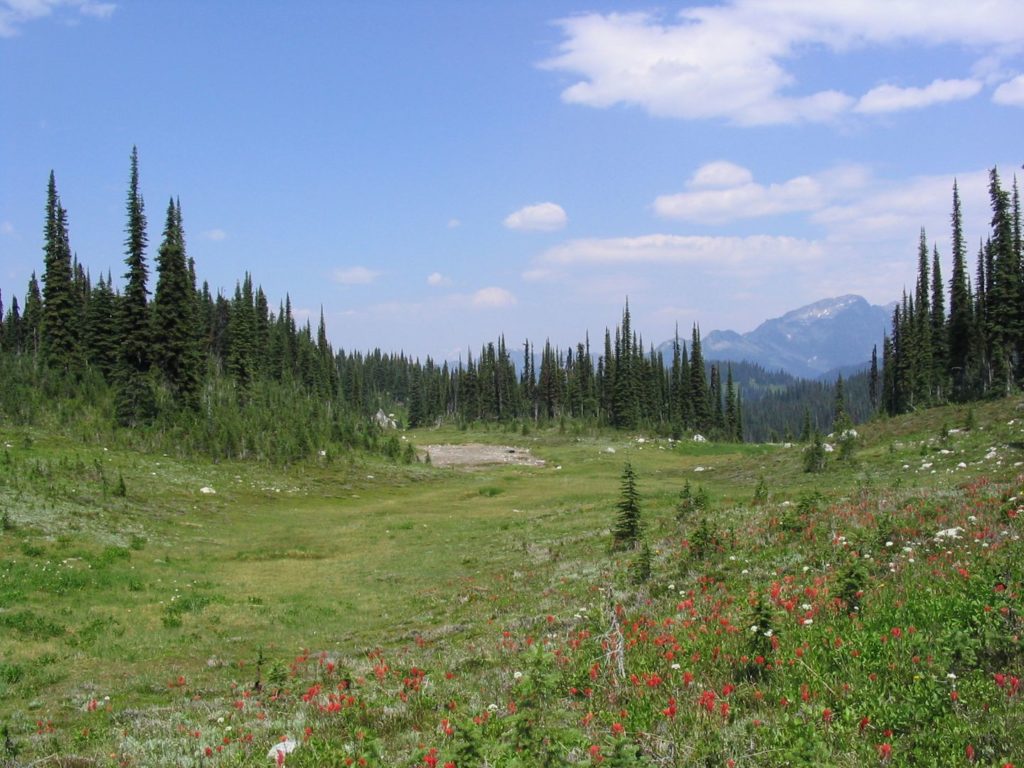 #5 The Nels Nelsen Ski Jump: This nice trail leads to the Nels Nelsen Historic Area, where world records were set. The place was the biggest natural ski jump hill in Canada.
#6 Eva, Miller, and Jade lakes: Moderate to challenging hike trails, with incredible views and stunning landscape through both subalpine and alpine tundra zones, take you to gorgeous mountain lakes. For those looking for additional adventure, there is a chance to spend the night under the stars at Eva and Jade campgrounds.
#7 Inspiration Woods: It offers a great short hike and good snowshoeing opportunity through the Columbia Mountain rainforest.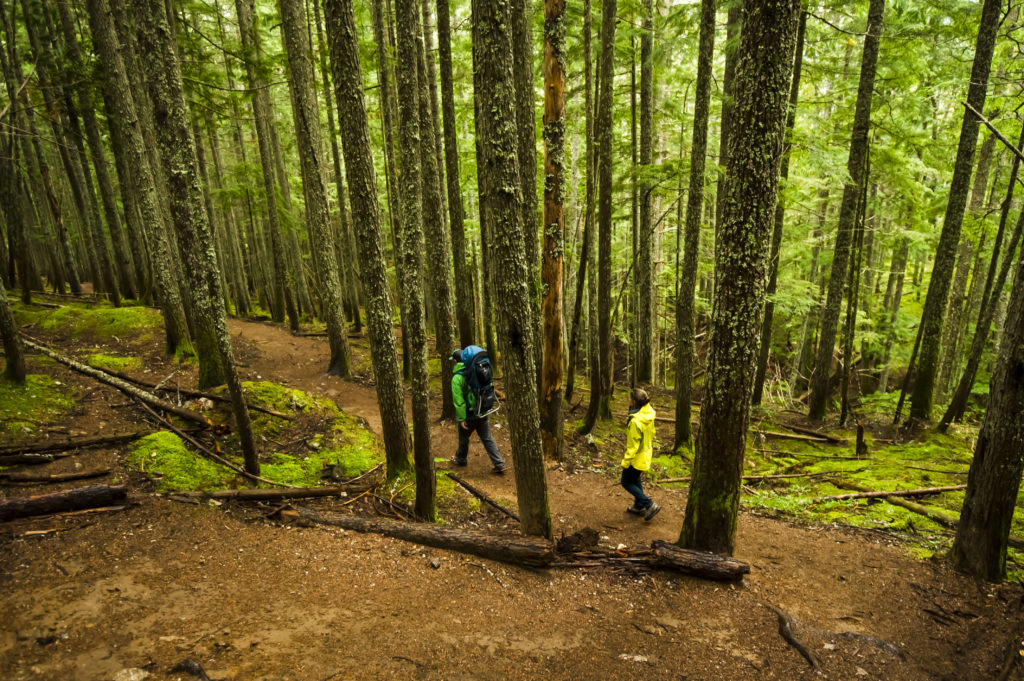 #8 Soren Sorensen Trail: An easy hiking/biking trail that starts at the Nels Nelsen Historic Area, and winds through the rainforest. Great wildflowers' views!
Wildlife: The park serves as a habitat for grizzly and black bears, cougars, lynxes, red foxes, coyotes, timber wolves, wolverines, moose, mountain goats, and a small herd of the threatened caribou.
Camping: Designated backcountry campsites are located at Eva and Jade Lakes. There is also a primitive shelter with no amenities at Eva Lake. Another backcountry shelter is situated 16 km up the Meadows-in-the-Sky Parkway – Caribou Cabin -, only available in winter. Private campgrounds can be found nearby on the Trans-Canada Highway.