Created in 2003 and formally established in 2010, the breathtaking Gulf Islands National Park Reserve is one of Canada's newest national parks, and it's located on the Southern Coast of British Columbia, between Vancouver Island and the BC mainland.
The reserve covers 36 km2 (14 sq mi) of protected lands on 16 islands, and more than 30 islets, reefs and approximately 26 km2 of surrounding marine areas. Each island has its own landscape features, abundant marine life, a Mediterranean climate (of sunny summers and mild winters) and unique historical landmarks that have attracted people for more than 5,000 years.
The larger islands (Saturna, Mayne, and North Pender and South Pender Islands) are accessible by BC Ferries, while the smaller islands can only be reached by boat, kayak or chartered seaplane service.
Once you arrive, you'll discover a treasure trove of cultural wonders and natural beauty that offers lots of recreational opportunities, such as cycling, diving, wildlife viewing, picnicking. Highlights also include:
#Hiking: Below you'll find some of the most popular hikes in the Gulf Islands.
Russell Island (can only be reached by boat): The trail will take you to the historic Mahoi House, one of the last surviving Hawaiian homesteads in the region. There, you'll have an opportunity to hear their stories and immerse yourself in the local culture.
Sidney Spit: Wander the sandy beaches of Sidney Island or take the trails through forests to open meadows.
Portland Island (boat access only): Princess Margaret Perimeter Trail – A shoreline trail that leads to hidden coves of Portland Island.
Pender Islands: There are a variety of parks and trails on the Pender Islands.
Beaumont – Located on South Pender Island, the trails – through forests and open fields -, require lots of up and down, but the views are rewarding.
Mt. Norman – The trail leads to the top of Mount Norman, the highest point on Pender Island (244 metres/800 feet), which offers panoramic views of the Gulf Islands, the mainland of Vancouver, and Mount Baker.
Roe Lake – This short trail leads up to the Roe Lake, which is surrounded by second-growth Douglas fir forest.
Roesland – A beautiful place to explore the Roe House, a former cottage resort dating back to the early 1900s. Also, there are lovely hiking trails in the area that will take you to the tip of Roe Islet (where you can enjoy spectacular marine views), and to the Roe Lake, located above Shingle Bay.
Mayne Island: Bennett Bay – The hiking trails will take you through the forest to a point with a beach lookout. It's one of the nicest sandy beaches on the island.
Saturna Island: A large portion of Saturna Island is protected by the park reserve, and there you'll find several hiking opportunities through forests and scenic shorelines.
Winter Cove – The trail through the forest, and along the Winter Cove shoreline, offers spectacular views across the Strait of Georgia.
Narvaez Bay – The area is surrounded by regenerating Douglas fir forest. There you can take the main trail to a stunning shoreline or head to backcountry campsites near Little Bay.
Monarch Head (Narvaez Bay) – This trail branches off the Narvaez Bay trail to a lookout where you can enjoy amazing views of Boundary Pass and the San Juan Islands.
Lyall Creek – A creekside trail, through a forest area with ferns and mosses, features a beautiful waterfall.
Tumbo Island (boat access only): An easy hike through different ecosystems: Garry oak and douglas fir forests, marshes and coastline. This trail also offers incredible views of the Strait of Georgia and neighboring Saturna and Cabbage islands.
#Geocaching: This challenging adventure is an interactive treasure hunt played with a smartphone or GPS unit. That's a great way to explore the natural beauty of places on the islands you have never been and learn about their history.
Challenges begin at Winter Cove on Saturna Island, Prior Centennial Campground on Pender Island, McDonald Campground in Sidney, and Along the loop trail on Sidney Island.
#Kayaking/Canoeing/Powerboating: A great opportunity to explore some of the most diverse marine wildlife in the world. You can choose from the dozen large islands, or the hundreds of islets, watch for whales, dolphins, harbor seals, river otters, sea lions, seagulls, eagles, oystercatchers… and relax on white shell beaches.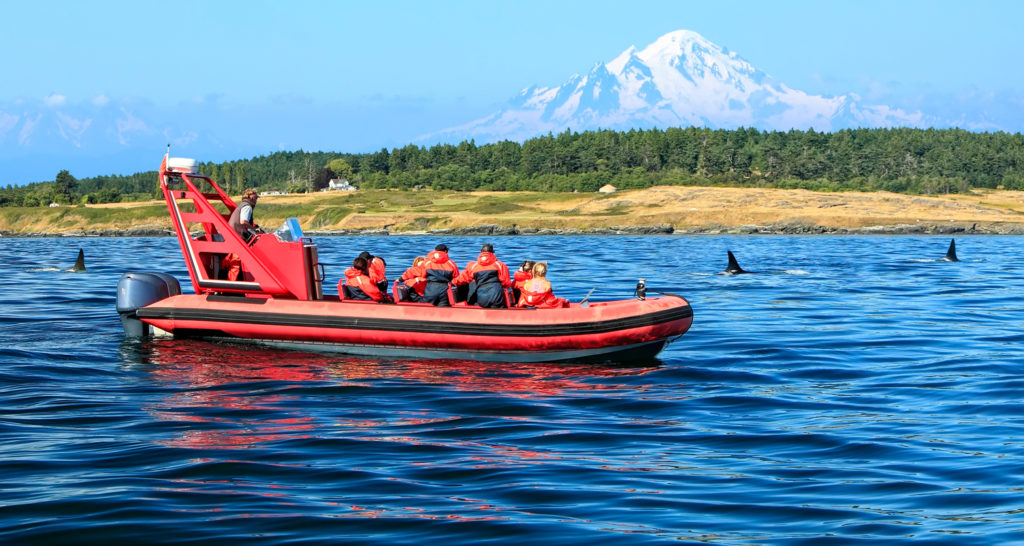 #Fishing: Fishing is a very popular sport in the Gulf Islands. The park offers excellent year-round salmon fishing as well as some of the most beautiful scenery as the backdrop. Also, the area is very good for groundfish, such as ling and rock cod. Licenses are required.
#Camping: Lots of camping opportunities for families, backpackers, kayakers and boaters.
Frontcountry campgrounds: McDonald Campground (Vancouver Island), Prior Centennial Campground (North Pender Island), and Sidney Spit Campground (Sidney Island).
Backcountry campgrounds: Looking for a full outdoor experience? The park offers a wide variety of backcountry campsites. They are located on D'Arcy Island, Isle-de-Lis / Rum Island, Portland Island, Pender Islands, Cabbage Island, Prevost Island, and Saturna Island.