Cold winter months call for hearty, warm-you-up dishes. Whether you're cooking on your stovetop, over the fire or in an instant pot, there are many options for making great meals in your RV. Here, we've gathered some delicious soups, creamy bowl and meat stews you need to stay nice and warm this winter.
Portuguese Kale Soup: This hearty, homey, cheap, and comforting soup is made with a few cheap and simple ingredients.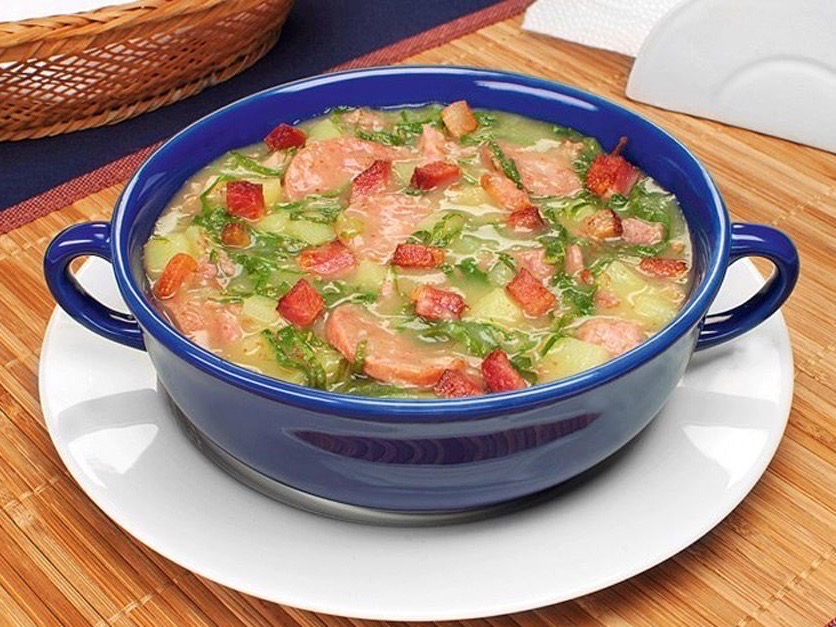 Prep: 15m – Cook: 1h 5m – Servings: 6
Ingredients:
1 pound diced chorizo, casing removed
1 large onion, finely diced
1 clove garlic, peeled and minced
2 large Yukon Gold potatoes, peeled and cut into 1/4-inch cubes
1 head kale, stemmed and coarsely chopped
4 cups chicken broth
200g diced bacon
Kosher salt and freshly ground black pepper
Minced fresh chives, for garnish (optional)
Warm, crusty bread
Instructions:
Step 1 – Place the bacon on a cold skillet, set the temperature to "medium," and let the bacon start cooking until browned on both sides. Drain and reserve some fat for cooking the chorizo until it begins to turn brown, 3 to 5 minutes, then reserve it. With some leftover fat in your pan, add onion and garlic and cook, stirring frequently, until softened, 4 to 5 minutes.
Step 2 – Transfer potatoes to pot then pour in chicken broth. Increase heat to high and bring to a boil. Reduce heat to medium-low; simmer until potatoes are tender, 8 to 10 minutes. When potatoes are tender, carefully mash them in the broth with a potato masher until broken up or completely mashed. Add onion, garlic, browned sausage and bacon to soup. Bring to a simmer over medium-high heat. Next, add the kale and cook, stirring constantly, until greens are tender and the soup has thickened to a creamy consistency, 25 to 30 minutes.
Taste, then salt and pepper as needed. Serve garnished with chives and hunks of crusty bread if desired.
Black Bean Soup: This tasty, healthy, thick and smoky bean soup is easy to make and perfect for chilly days. It can be prepared on your stovetop or in an instant pot.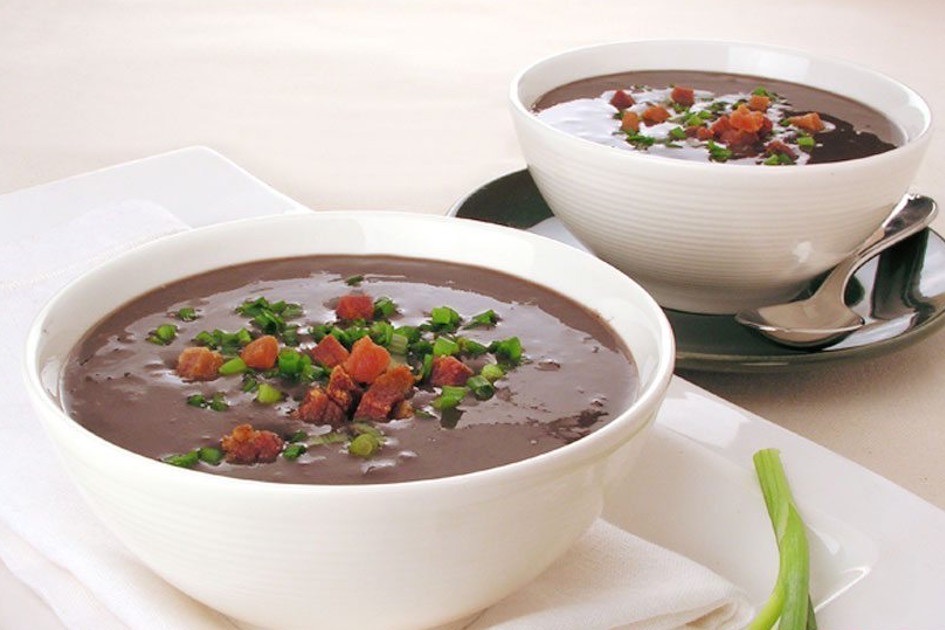 Prep: 10m – Cook: 1h 10m – Servings: 4
Ingredients:
2 cups of water
1 ½ cup dry black beans
2 onions, chopped
2 bay leaves
¼ cup extra virgin olive oil
1 teaspoon chopped garlic
3 cups bean broth
50g diced bacon
2 cloves garlic, peeled and minced
Chopped parsley, chives, and cilantro to taste
Kosher salt and freshly ground black pepper
Warm, crusty bread
Instructions:
Step 1 (Cooking the beans) – Place water, black beans, 1 onion chopped, and bay leaf in an instant pot. Close cooker securely and bring to high pressure according to manufacturer's instructions. Cook for 15 minutes after steam starts to escape. Remove from heat and allow the cooker to release pressure naturally. Heat olive oil in a skillet over low heat. Add garlic; cook and stir until golden, about 1 minute. Stir oil and garlic into beans. Remove bay leaf and season beans with salt.
Step 2 – Blend the beans with its broth. Strain and then return them to the pan. Cook the diced bacon and reserve some fat for cooking the garlic and onion. Stir frequently, 4 to 5 minutes. Add this mixture to the boiling bean broth and season with salt and pepper. Serve garnished with chopped herbs.
Creamy Squash Soup: A simple and delicious soup to keep you warm, happy, and healthy. Everyone in your family will love it!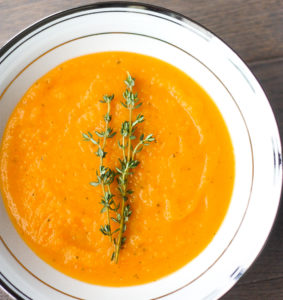 Prep: 10m – Cook: 40m – Servings: 4
Ingredients:
1 seeded and chopped kabocha squash
3 liters of water
1 small onion, finely chopped
1 stalk of chopped leeks
Thyme, rosemary, salt and black pepper to taste
Warm, crusty bread
Instructions:
Step 1 – Cook squash in water with onion and leeks until tender (about 15 minutes) and season with thyme and rosemary to taste.

Step 2 – Puree the soup in batches in blender or puree with a hand blender until smooth. Bring back to medium-low heat, season with salt and black pepper to taste, and cook for a couple of minutes. Serve immediately.
Chicken and Chickpea Stew: A great combination of a warm and comforting winter dish.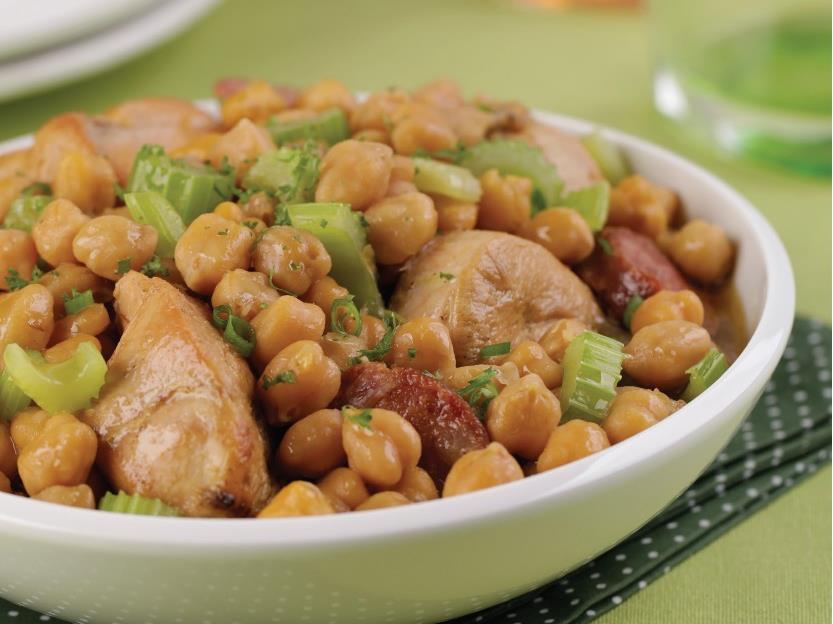 Prep: 20m – Cook: 1h 20m – Servings: 6
Ingredients:
500g chickpeas
8 cups boiling water
2 skinless, boneless chicken breasts (600 g), cut into bite-size pieces
2 cloves garlic, minced
½ teaspoon curry
½ tablespoon of English sauce
2 bay leaves
4 tablespoons extra virgin olive oil
200g thick-sliced ​​smoked sausage
1 chopped onion
1 cup chopped celery
3 tablespoons chopped parsley or cilantro
2 tablespoons chopped ​​chives
Kosher salt and freshly ground black pepper
Instructions:
Step 1 – Let the chickpeas soak in hot water for 30 minutes. Reserve it. Season the chicken pieces with salt and pepper to taste, garlic, curry, English sauce, and bay leaves.
Step 2 – In a large saucepan, heat oil over medium heat and cook the chicken pieces until it begins to turn brown, about 15 minutes. Add the sausage and let it brown slightly, stirring occasionally. Add onion and saute until soft.
Add the celery, saute for 1 minute and then add the chickpeas with the soaked water. Bring to a boil, lower the heat and cook with the pan half-covered. Stir occasionally for 40 to 50 minutes or until the chickpeas are tender. If necessary, add a little more water for rich full-bodied chicken stock. Sprinkle with chopped chives and parsley and serve.
Beef, Leek and Mushroom Stew: It's such a comfort and tasty stew for a healthy winter dining.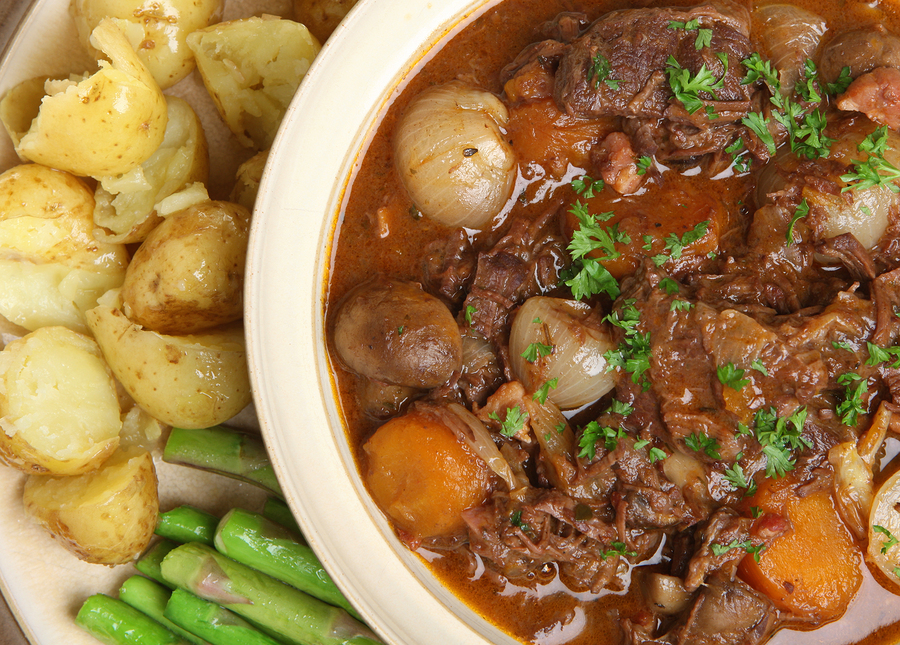 Prep: 30m – Cook: 2hrs – Servings: 4
Ingredients:
2 tablespoon all-purpose flour (on a plate seasoned with salt and pepper)
2 tablespoon vegetable oil
1 pound rump steak (or braising steak, cut into 1″ chunks)
3 large shallots (peeled and quartered)
3 large garlic cloves (peeled and halved)
2 medium leeks (trimmed, cleaned and roughly sliced)
1/2 cup red wine
1 1/2 pints beef stock
6 baby carrots (peeled and cut into large chunks)
1 bay leaf
5 ounces baby button mushrooms
Kosher salt and freshly ground black pepper to taste
Instructions:
Step 1 – Preheat the oven to 300 F. Heat the oil in a large frying pan. Pat the beef chunks with a paper towel to make sure they are dry and then add to the frying pan. Stir constantly with a spatula and once browned all over, remove from the pan onto the flour. Stir to lightly coat all the pieces.
Step 2 – Place the flour-coated beef into an ovenproof casserole dish. Return the frying pan to the heat and add the shallots, garlic, and leeks. Stir and cook for 1 minute.
Tip the vegetables from the frying pan into the casserole with the beef.
Keeping the pan on the heat add the wine and boil to reduce by two-thirds. While whisking the reduced wine constantly with a hand whisk, slowly add 1 pint of the hot stock. Pour this over the beef and vegetables and stir well.
Finally, add the carrot chunks and bay leaf. Stir again.
Step 3 – Place the casserole into the preheated oven and cook slowly for at least 2 hours up to 4 hours. Look at the stew from time to time to make sure it hasn't boiled dry, top up with the remaining beef stock as needed. 30 minutes before serving, add the button mushrooms and return the casserole dish to the oven. Cook for a further 30 minutes. Taste and adjust the seasoning with the salt and pepper to taste.
Even if your RV kitchen space is small, with some kitchen gadgets and a lot of creativity you can create delicious, healthy, affordable meals to make winter welcome anytime.
Hope you found these RV meals as easy and fun to make as we did!
Bon appetit! 🙂