Wintertime may seem boring to some people and though the season calls for staying home wrapped in a blanket with a cup of hot cocoa, reading a book or watching movies, the low temperatures offer you the chance to experience exciting outdoor activities, from skiing, snowboarding, to simply relax in the beautiful snowy scenery. You can also enjoy quiet campgrounds and… no bugs!
Preparing your RV for a winter adventure

Although most RVs come with a winter package, there are some helpful tips to make your trip cozy and enjoyable.

1- Prepare you RV: Make sure your RV battery is fully charged (without signs of corrosions), the engine is protected with the proper concentration of antifreeze and water, and check if your RV furnace is working well.

2- Protect your holding tanks: Before your trip, empty your black and gray water tanks. Add about a quart of antifreeze. Use a foam pipe insulation to heat tape for extra protection. You can also invest in heated RV water hose or heating panels and attach them to the tanks.
Allowing small drops to flow from the faucet can prevent the water from freezing.

3- Keep your internal plumbing warm: Leave your bathroom and cupboard doors open to allow the trailer's heating to circulate around the plumbing. This will keep it warm, protected from freezing.

4- Insulation: An RV skirting around the base of the RV is easy to install and helps prevent the cold wind freezes water tanks and damages components.
Use Monofoam to cover openings and cracks in the floor and around plumbing pipes.
Seal the doors and windows using foam tape. Use a window shrink insulation to seal air leaks on interior windows. There are also heavy-weight thermal curtains to cover your windows and a blanket over the door (made of a nylon-quilted material) that offers good insulation.
Add foam to insulate your air vents so you can keep them slightly open without the risk of snow or rain getting into your trailer. If you are using a portable heater, the open vents allow air circulation reducing the risk of carbon monoxide poisoning, also, excess humidity. It helps prevent heat loss too.

5- Propane: During the night, you can choose to use electric blankets but you also have additional heat options to save on propane and furnace, such as electric heaters or catalytic heaters. Do remember to use a small dehumidifier, once these heating sources can add moisture to the air, causing corrosion and damages.
Don't forget to bring extra propane tanks in case it runs out.

Additional tips
Weather conditions can be unpredictable in the wintertime, so check the local weather forecast and be prepared. Bring an emergency kit with all supplies in case you need to make some repairs.
Don't forget extra blankets, warm winter clothing, and thermal layers, also, extra drinking water, food, and sleeping bags rated for zero degree temperatures.

Give your heater a bit of a break and let the heat of the sun warm your RV during the day, or in a spot protected from winds.
Have your tire chains on board to drive during snowstorms.
Bring a shovel to push heavier snow off of the roof and dig your RV out.
Use a blow dryer to defrost pipes and tanks, if needed.

Make sure the campgrounds, national parks, trails will be available before heading out. Many campgrounds and other attractions close for the winter season.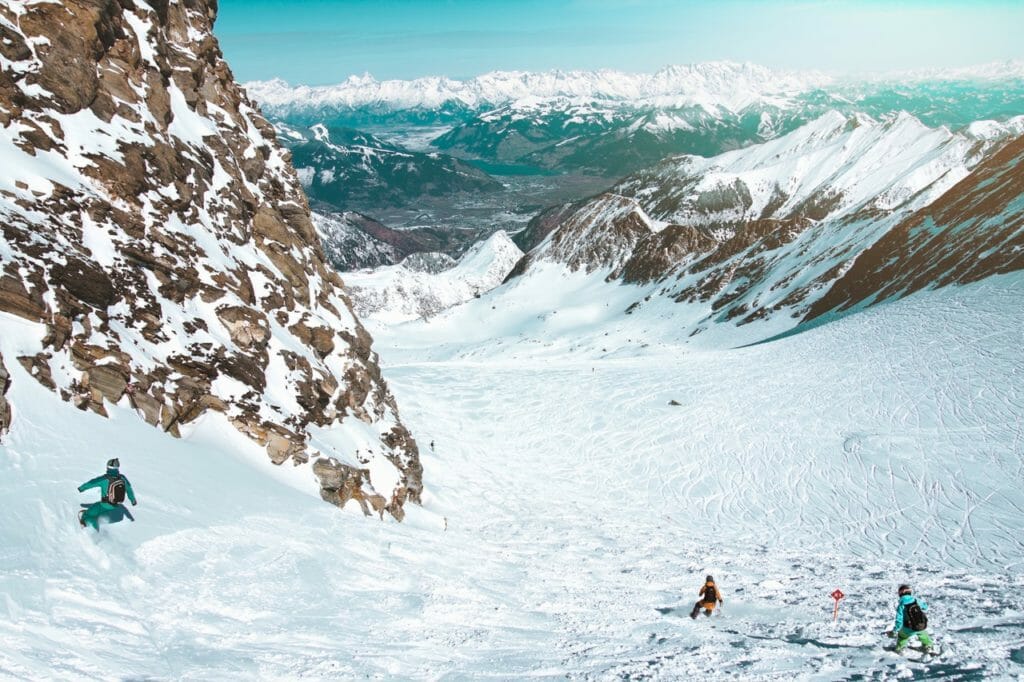 Being active is the best way to stay warm, so enjoy the beautiful winter outdoors and have lots of fun!